If you read my Facts on Friday last week I mentioned that I wanted to host a weekday read-a-thon. Well, Candace's Book Blog, Reading Angel and I have teamed up to bring you, Once Upon A Read-A-Thon!! The read-a-thon will take place on July 12th, 13th, and 14th. That's a Monday, Tuesday and Wednesday! Great for all of us that work or are just busy on the weekends.
We have a bunch of really fun things planned! There will be lots of big giveaways! So mark your calenders and stay tuned for updates! We hope you will join us!
Update!
Here is some more detailed info:
The read-a-thon will kick off on Monday July 12th.You can start reading whenever you want to! There is no minimum amount of books to read. Read at your own pace. I'm going to pick short books, or books I know I can read really fast.
We are contacting a few bloggers to host mini activities or challenges during the three days. These are optional. You can participate in all of them or none. (But you should participate in at least one!)We will let you know who is hosting what and when during the sign ups.
We will post sign ups about a week before the read-a-thon begins. You will be able to sign up with Mr. Linky on each of our blogs, so that everyone can see your updates and such. As for the giveaways….we are going to have a ton! Books and Swag packs. There will be a form to fill out to be entered in the giveaways. You don't have to be a follower of our blogs but we would appreciate it!
We are doing it during the week because a lot of people are busy with families and work on the weekend. If you work on the days of the read-a-thon, that's no problem! Like I said before you can read as much or as little as you want. The point is to READ!
It's called Once Upon A Read-A-Thon because we thought it was cute. Not because you have to read fairy tales. You can read whatever you want!!
You don't have to read for three days straight…please sleep.
You don't have to have a blog to participate. You can sign up and update using Twitter, Facebook, Myspace etc.
To see a sampling of the giveaway goodies go HERE
If you want to go ahead and grab the button, go for it!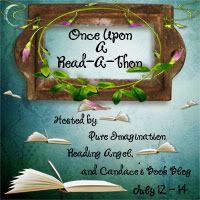 Related Posts