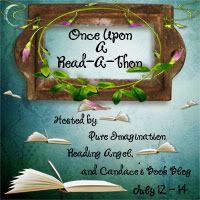 The read-a-thon starts in one week!! Now it's time to sign up! For all the read-a-thon info go
HERE
. To sign up all you have to do is fill out the Mr. Linky with your name and the url of where you will be doing updates(blog, Facebook, Twitter etc..).
We have a lot of prizes and everyone will probably get something! Here are the rules for the giveaways!
You must participate in the read-a-thon(You need to do at least one update, participate in at least one mini challenge, and post a read-a-thon wrap up post telling us what you read)
You must be 13 years or older.
You don't have to be a follower of our blogs, but we would appreciate it!
For more info read my Contest Policy
Giveaways are open to US residents only(Sorry, we have so many people donating, and so many prizes that we just couldn't afford to make it international.)

Fill out
This Form
to be entered in the Giveaways!! Please note that this is the same form and Mr. Linky on all of our blogs. You only have to fill it out once!
That's it we will see you for the kick off, in one week!!
Related Posts