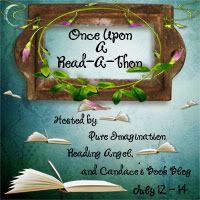 We started planning this read-a-thon in April, that feels like forever ago! Here is of all the authors that made the Once Upon a Read-a-Thon giveaways possible:
Karen Alderman
Sharon Ashwood
Cyn Balog
Michele Bardsley
Jenna Black
Parker Blue
Jacqueline Carey
Tara Lynn Childs
Jeanine Cummins
Holly Cupala
Kimberly Derting
Bree Despain
Jocelynn Drake
Sarah Beth Durst
Abra Ebner
Jennifer Echols
Elizabeth Eulberg
Beth Fantaskey
Catherine Fisher
Angie Fraizer
Terri Garey
OM Grey
Rhonda Hayter
Anastasia Hopcus
Jennifer Hubbard
Susan Hubbard and her publisher, Nina
Faith Hunter
Carrie Jones
Lauren Kate
Jackie Morse Kessler
Phoebe Kitanidis
Amber Kizer
Heidi R. Kling
Stephanie Kuehnert
Lindsey Leavitt
Jenna Maclaine
Marissa at Flux
Natasha Mostert
Jennifer Murgia
Jill Myles
Jen Nadol
Chloe Neill
Jandy Nelson
Sarah Ockler
Lauren Oliver
CJ Omololu
Nicole Peeler
Adrian Phoenix
Mara Purnhagen
Christy Raedeke
Samantha at Scholastic
Lisa Schroeder
Elizabeth Scott
Janni Lee Simner
Linda Joy Singleton
Jeri Smith-Ready
Gabi Stevens
Laurie Stolarz
Carolyn Turgeon
Kristen Walker
Amy Brecount White
Skyler White
They all deserve a big virtual hug!
And of course I want to thank Angel and Candace. Thanks for having great ideas and sending countless emails! Thanks to everyone that hosted mini challenges!
Most of all thanks to everyone that participated!! It turned out to be much bigger than I was expecting!!
Want to do another read-a-thon next year?
Related Posts