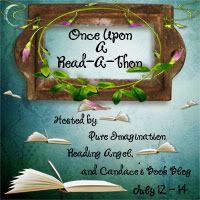 Today I had longer books to read, but I think I still did good! I finished
Rose Sees Red
first thing this morning. I really like it! It was very different. Then I read
The Giver
. I read this in 8th grade and it has always stuck with me, so I really wanted to reread it. Now I'm reading
Gathering Blue
, the companion book.
Here is the complete list of all the books I have read:
Green Angel by Alice Hoffman
The Tales of Beedle the Bard by J.K. Rowling
Glimpse by Carol Lynch Williams
Rose Sees Red by Cecil Castellucci
The Giver by Lois Lowry
If you didn't get a chance to check out the mini challenges(and giveaways) from today here they are:
A Blog about Nothing
For Lauren's Mini Challenge I posted a short review of Green Angel on Goodreads!
For Jessica's (Confessions of a Bookaholic) Here are my answers:
1. Tell me what makes you the most emotional when you read it in a book.
Most of the time it is someone dying, of course. But it always happens under different circumstances for me. Sometimes it is getting to know a character all throughout a book, only for the to die(or think they are dying). And sometimes it's just a character grieving over loved ones. Like in, If I Stay. I didn't cry at the beginning, when the accident happens, but I cried through the rest of it!
2. Leave a comment telling me what book has made you the most emotional.
Let me start off by saying that, I honestly don't cry that much. But when I read The Time Traveler's Wife I honestly cried the last 100 pages. Not just weepy cries either. I'm talking boohoos, a blubbering mess! I had a headache from crying afterward!
Shiver also made me boohoo!
Cynthia at A Blog About Nothing asked us to cast actors for one of our favorite books! Here are mine:
With the help of Storycasting.com (because I'm horrible at this sort of stuff!) I cast, 13 Treasures by Michelle Harrison. I think this series would make a awesome Harry Potterish movie!


Tanya:
AnnaSophia Robb
(She's too old to play her now but I think she would have been great a couple of years ago)


Fabian:
???
I can't think of anyone! Plus I don't remember what he looked like lol


Florence:
Vanessa Redgrave
That's my updates for today!
Related Posts