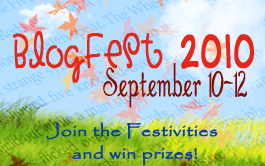 I'm so happy to be part of Blog Fest!! I always seem to miss these things but not this time! Want to know what you can win? Do you…..? Do you really….? Okay……
Stork by Wendy Delsol (Which I loved!)
&
Boys that Bite (signed!) by Mari Mancusi
Plus some awesome swag!
Here are the rules:
Giveaway ends on Sunday (9/12)
Open to the entire WORLD!
Following or spreading the word aren't required but always appreciated!
Fill out the form:
And don't forget to check out the next blog on the list:
A Mommy In Mayhem
Giveaway is now closed!
For a full (and very long) list of all the BlogFest blogs visit A Journey of Books. While there you can also sign up to keep track of all the giveaways you have entered! If you sign up you will be entered in the MEGA giveaway as well!!
Related Posts