I'm so happy to have Nicole from WORD for Teens taking over today with her awesome post! Give her a big welcome!!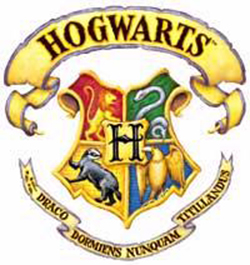 When I heard that Lori was doing a Harry Potter week, I pretty much jumped up and down, ran around screaming, and came back to the computer to ask to be a part of it. She was all for it, and I was all for it — and then came the big kicker. What do I want to TALK about? There are so many options. Different spells I adore, my favorite parts of the series, why I love it so much.
But isn't that what everybody is going to talk about?
So I thought. And I thought some more.
And then I contacted Dumbledore's Army.
See, I'm a member of Dumbledore's Army. It's a club at my college – and an official division of the Harry Potter Alliance – and the people are freaking AMAZING. I messaged a few, and after a few minutes of discussion we figured out our topic.
Favorite characters.
But not just MINE. Oh, no. Here are the Top Seven favorite characters of Beverley (DA's Headmistress), Andrea (DA's Secretary), Jimmy, Jack, Lauren, and my roommate Julia. Some are just lists. Some have a little explanation. And Julia has a paragraph for each character.
See, that's why she's my roommate.
Jimmy
Jimmy switched his list about six times before settling on his final. I've included both the ORIGINAL list and the FINAL list.
Original List:
1. Severus Snape
2. Sirius Black
3. Remus Lupin
4. Lucius Malfoy
5. Hermione Granger
6. Bellatrix Lestrange
7. Ginny Weasley
Since other people are putting Fred and George together, I think it's only fair that I can group 2 together as well.
Final List:
1. Severus Snape & Sirius Black – b/c they are tied in my book
2. Remus Lupin
3. Dobby, a free Elf
4. Hermione Granger
5. Ginny Weasley
6. Lucius Malfoy
7. Bellatrix Lestrange
I asked him why he ended up grouping the top two on the final list.
Snape has always been my favorite but recently Sirius has been growing on me more and more. I initially had him as number two but since he is a very close second (and in an effort to keep Ginny's spirit alive while leaving the others still on the list) I chose to group them. If I hadn't, Bellatrix would have gotten the boot for Ginny to go back on. But I hate removing them… it's like I'm killing them off, and I always regret it later on.
Jack
Jack is the one guy in our group who always has a question or something to say – to the point where the joke is that he has to get permission before speaking in
group discussions now. Tehe!
1. NEVILLE LONGBOTTOM
2. Draco Malfoy
3. Fred & George Weasley
4. Severus Snape
5. Albus Dumbledore
6. Harry Potter
7. Tom Riddle (Voldemort)
Lauren
Lauren is the co-PR person of Dumbledore's Army with me. She's also slightly psychotic with flaming red hair. We love her.
1. Fred and George Weasley
2. Molly Weasley
3. Albus Dumbledore
4. Hermione Granger
5. Ron Weasley
6. Severus Snape
7. Lee Jordon
Andrea
Andrea's secretary of Dumbledore's Army. She's one of the most organized people ever. EVER. And has the cool British versions of the books.
1. Luna Lovegood
2. Hermione Granger
3. Albus Dumbledore
4. Sirius Black
5. Fred and George Weasley
6. Ron Weasley
7. Severus Snape
Julia

Julia is my roommate. As I was typing this, she was reading to me the timeline of Voldemort's life that she had created, including years, dates, and how she figured out when he was born. It's kind of obvious why I'm rooming with her.
1. Ginny Weasley. why? Because she may not look like it, but she's strong and doesn't take anyone's crap. She's also sweet and kind, but in no way a pushover. She overcomes her shyness towards Harry and is able to become a valuable friend to him. Her bravery shows as she becomes more involved in the thick of things with Harry and the rest. She's perceptive of others feelings as well. Ginny does what needs to be done and stands up to those who defy her, always defending her beliefs. I greatly admire her as a person.
2. Harry Potter. why? Because, well, everyone loves Harry. He's a hero through and through, but we can all relate to him because he's not perfect. He has anger problems and as we all know, is full of lots of angst. His journey throughout the books is not only to vanquish the Dark Lord, but to overcome himself in order to complete his task. He is fiercely loyal to his friends and fights for what he believes in 100% of the time.
3. Neville Longbottom. why? Because it is so much harder for him to put himself out there and have confidence. But through and through, he always stands by Harry, no matter how hard it is. He always does the right thing, even if that means working hard and defying others. Later on, he really begins to come out of his shell and by the time book seven rolls around, he has exhibited just as much bravery as Harry has, many times over. He shows loyalty and responsibility as he takes over the D.A. and "holds down the home front" at Hogwarts.
4. Hermione Granger. why? Because she keeps it all together while taking on so much more. She too has problems to overcome, and does so all while keeping everyone else in check. Without her, Harry would be completely lost; she has saved his skin more times than he can count. She also always stands up for what she believes in and becomes stronger in her approach towards others throughout the books.
5. Ron Weasley. why? Because he has been there from the beginning, supporting Harry all the way. Although subject to jealously, and sporting the stubborn attitude that seems to mark all three of the trio,as well as Gryffindors in general, Ron has always come back to help save the day. He finally discovers himself as he makes important choices and shows his bravery as he sticks by his friends on their quest to defeat evil.
6. Albus Dumbledore. why? Because we think he knows everything and then we are shown that even the greatest wizard of this age isn't perfect. He can always be counted on to save the day, but even he has faults. Beginning at the end of Order of the Phoenix and throughout the rest of the series, we see how imperfect he really is. He gives the appearance of being immortal, but is the ultimate example of "nobody's perfect" no matter how much you may think they are at first.
7. Lord Voldemort/ Tom Riddle. why? Because he is so completely evil and despicable that you can't help but love to hate him. He is ruthless and ugly but all the same is charming and cunning. As much as you hate him, you can't help but admire his intelligent slyness and determination to achieve his ends. It seems that evil comes from the core with Voldemort, it is something that he will never overcome. This makes him the perfect foil to the others, who have defeated their weaknesses throughout their journeys across 7 books.
Beverly

Beverly is the headmistress of Dumbledore's Army; she founded it last year. She's awesome.
1)Professor McGonagall…why? because she's bad-ass. The end.
2)Ginny Weasley
3)Draco Malfoy
4)Bellatrix Lestrange
5)Sirius Black
6)Neville Longbottom
7)Fred and George Weasley (and I could even group Lee Jordan with them)
What about you?
Are any of your favorite character lists similar? How? Do you agree with Julia's paragraphs on the characters? Do you have somebody who didn't make any of the lists?
Tell me!
Related Posts