Most of you probably know that I am a HUGE fan of Delirium and Lauren Oliver! As part of the Countdown to Delirium over at Deliriously Falling we are asking YOU to ask Lauren questions! It can be about Before I Fall, Delirium, or just anything you want to know!
Leave your questions in the comments and she just might answer them in a video!!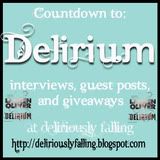 Don't forget to stop by
Deliriously Falling
for giveaways, interviews, and guest posts all month long!
Related Posts