This party is basically a giveaway hop, but it's going to be so much more than that!
To sign-up for the giveaway hop just fill out the form below and link up to the linky! The linky and form are the same on ALL BLOGS! You only need to sign-up once!!!
Now for the Carnival Part. During the giveaway hop different blogs will be hosting booths. Each booth will have a fun challenge for you to do to enter their giveaway!
(All the booths have been filled up at this time!)

I have

the

Kissing Booth

and will be giving away Romance books.
Angela has the

Haunted House

and will be giving away Paranormal books
Mary has

Rollercoasters

and will be giving away a contemporary book.
Candace has the

Food Court

and will be giving away Giftcards (or books of winners choice).
Reading Teen has the Fortune Tellers Booth and will be giving away Witch Books.
We won't only be doing giveaways! The four of us will also be hosting fun challenges that correspond with our booths for extra prizes!


Sign ups for the hop and booths are now closed!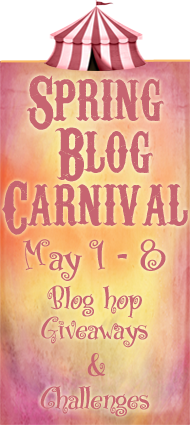 Your giveaway needs to be up by the morning of the 1st of May (posting at midnight is the best!) or you will be erased from the linky.
Your giveaway needs to be book related, but can be of your choice and of any value.
Your giveaway must last until midnight of May 8th.
Have questions? Email me at pureimagination77(at)gmail(dot)com

When entering into the linky please include your blog name and where the contest is open to.
Example: Pure Imagination (Int)
Related Posts