Last year we had a giveaway hop along with the carnival booths, but this year we are just hosting booths! Do you remember what they were? If not, here's a refresher:
Booths are basically specific challenges and giveaways.  Each blogger that hosts a booth will have a fun challenge that you can complete to win prizes. Here are some examples:

I have the

Kissing Booth

 and will be giving away Romance books.
Angela has the Haunted House and will be giving away Paranormal books
Candace has the Parasol Parade Booth and will be giving away Steampunk books
Joli has the

Karaoke

booth and will be giving away music themed books
Gabrielle has the

House of Mirrors

booth and will be giving away (doesn't know yet)
A full list can be found at the bottom of the post.
Those are the booths we have at the moment, if you would like to host a booth here's a little more info about being a host:
Booths (challenge & giveaway posts) must be up by May 7th at 12:00am.
You must think of your booth theme on your own and have it ready when you email us.
Challenges can consist of anything, but don't make it too hard. (If you would like some examples of last year's challenges go here and here)
Giveaways must correspond with the booth theme somehow.
Giveaways can be any books or book related item.
The Carnival will be May 7th through the 13th.
Booth Sign Ups are now closed! But come back for the carnival in May! And maybe grab a button?

 Code is on the sidebar!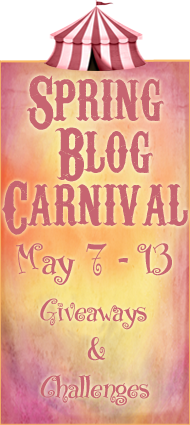 Related Posts